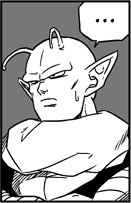 Master Namek of Universe 1 seems to be the head of the Namekians from Universe 1 and probably their Guru and creator of the Dragon Ball that will grant the wishes for the winner of this Multiverse Tournament. He is also part of the organizers staff along with the Kaioshins and the Vargas.
Gallery
Ad blocker interference detected!
Wikia is a free-to-use site that makes money from advertising. We have a modified experience for viewers using ad blockers

Wikia is not accessible if you've made further modifications. Remove the custom ad blocker rule(s) and the page will load as expected.